Preview collection 2021
Every year PerDormire invite industry press, guests and friends to an Open Day in Milan; the historic heart of design Made in Italy.
Comfort, design, technology, customization, functionality: these are the characteristics of the new bed systems which PerDormire proposes for its annual appointment in mid-October.
"This year, more than ever before, we wanted to present a broad range of new products", declared Paolo Luchi, Sales & Marketing Director of the brand PerDormire and PerDormire Hotel.
"During the lockdown, people gained awareness of just how much a bed system can improve their quality of sleep and therefore of life," Luchi went on to say. "This is demonstrated by sales figures during the period from the reopening until today, which is precisely why we decided to extend our proposal in an effort to meet our customers' demands in terms of both wellness and style.".
Bed systems with underbed storage, available in various sizes, with partially or fully removable covers, customised upholstery, colours and feet. Every detail has been carefully studied to achieve the best combination of style, comfort and performance to provide satisfactory answers for increasingly demanding and conscientious consumers.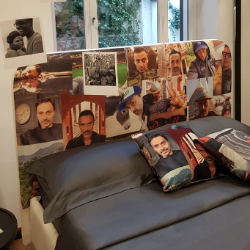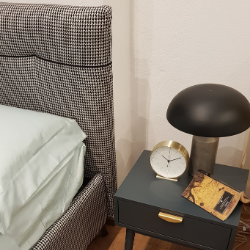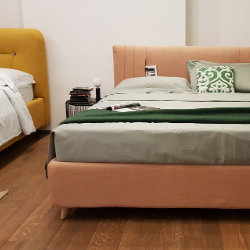 New trends with an eco-friendly soul
In PerDormire we believe that sustainability is well-being, for the environment and all of us. We can sleep really peacefully only knowing that we are leaving our children a better and more sustainable world. This is why we have thought of products, services and production processes that have the lowest environmental impact and encourage a virtuous system of circular economy.
Disposing of a mattress poses logistic issues, due to its dimensions. To meet theese needs PerDormire has developed two inovative and sustainable solutions:
Vacusan, which sanitizes the material to dispose of and reduces the volume of the mattresses
Dormieco tecnology, which assemble mattresses without using glue but a special thermolabile yarn subject to decomposition when exposed to high temperatures.
Sleeping on a 100% natural support is possible. The covering of the new mattress Nature is composed of three 100% natural fibers: modal, hemp, and linen. Also PerDormire is introducing a new range of fabrics obtained of recycled plastic and cotton.
Less but not least: PerDormire has obtained the 'Green facility' certificate issued by the international certification institute TÜV, which distinguishes companies that use 100% green energy sources for production and stores.